4 Tips for Future Therapists
Posted on
07 Dec, 2022
in Cognitive Therapy,Psychology,Therapy Tips
Students studying to be mental health professionals are in good company. According to the Bureau of Labor Statistics, the field is projected to grow 23% over the course of the next ten years.
While it can be daunting to enter the field after graduation, you'll be well-equipped with skills that the world needs! Here are a few tips for future therapists to make the most out of their education and their time as new graduates entering the field.
Connect with others in your field
The connections you make while studying can be some of the most long-lasting and valuable for your career! This includes your peers as well as your teachers. Fellow therapists may help you land a job in the future, or refer previous clients to you. Plus, it's good to have friends and colleagues who understand the difficulties of your career and can speak about it with you.
Cognitive worksheets can be a useful tool in your therapy toolkit. Different types of worksheet activities can focus on specific areas of cognition that the patient needs to work on. HappyNeuron offers worksheets to help with a wide variety of cognitive skills such as memory, attention, and executive functioning.
Cognitive tools can provide valuable information and experience in the classroom and in your practice after graduating. Digital tools like HappyNeuron Pro may help with many conditions such as bipolar disorder, depression, and ADHD. This digital tool provides a practical way to help your patients, structure your sessions with them, and track their progress.
As a student, you can utilize this tool in your graduate-level courses. Check out our education offerings, as well as a discount you can use upon graduating so that you can use the program with your patients.
Explore what works for you
When still in school, it can be helpful to keep an open mind about the types of clients you want to work with and what kind of practice you want to work within. You may become drawn to an unexpected area of focus!
Today's therapy landscape includes many areas of practice, such as CBT, DBT, family or couples therapy, and mindfulness-based, somatic, and trauma-focused therapies, just to name a few. Some therapists even specialize in one condition, such as working with patients with anxiety, OCD, or bipolar disorder.
Once you're graduated and out working in the field, it may be prudent to work with multiple types of clients.  This way, you'll get a feel for what you enjoy or are particularly good at. This can help you shape your career in the ways that work best for you, so that you build a career you truly excel in and feel proud of.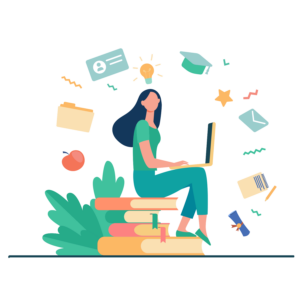 After you've graduated, it's understandable to want a break from constantly reading textbooks and articles. However, keeping up with advances and updates in your field can give you a leg up and can help you to maintain your motivation for your work. Just reading an article or two each week will help you stay up-to-date and be at the top of your game. We update our blog regularly with industry news and tips, so feel free to check back!
If you're on your way to being a therapist, take the time to congratulate yourself for coming this far! It's not easy, but it's exciting to embark on a career path where you have the opportunity to help so many people. We hope our resources can provide some help on your journey. The HappyNeuron Pro team is cheering you on!