Depression After Traumatic Brain Injury: A Clinical Research Study
Posted on
25 Jul, 2019
in Depression,TBI
Traumatic Brain-Injury: Experience of Major and Minor Depression in a 1570 Patient Cohort 1 Year Post-Injury.
Source: Hart, T., Brenner, L., Clark, A. N., Bogner, J. A., Novack, T. A., Chervoneva, I., … & Arango-Lasprilla, J. C. (2011). Major and minor depression after traumatic brain injury. Archives of physical medicine and rehabilitation, 92(8), 1211-1219.
Brain-injury causes not only cognitive and physical disturbance, but emotional. Many patients suffer from depression, with a report of approximately 42-52% of patients within a year post-injury. 49% of people suffering from a brain injury develop depression during the first year.
Depression can be debilitating as it disturbs one's participation in life. Attending social events with family or friends, going to rehabilitation appointments, and taking steps towards independent living can become very difficult to impossible depending on the severity of depression. Patients suffering depression lasting more than 6 months have been reported to experience deterioration of social functioning and execution of activities of daily living (ADL's).
Successful rehabilitation relies on not only cognitive and physical well-being, but emotional. If patients do not have a positive outlook on life, therapeutic interventions may not be as effective as they can be. Treatment for depression may involve medication, psychotherapy, diet and exercise regimen changes, neurostimulation and neuro-feedback methodologies, and other interventions at the discretion of a licensed medical professional.
In this study, 1570 participants were followed one-year post-injury and provided self-report depression data. The study was conducted at several traumatic brain injury model system centers. Demographic information,  medical information, psycho-social functioning, pre-injury data, and substance abuse information were collected. At one-year follow-up post-injury, the Participation Assessment with Recombined Tools-Objective (PART-O), the Glasgow Outcome Scale-Extended (GOS-E), FIM, Patient Health Questionnaire-9, and Satisfaction with Life Scale data were collected.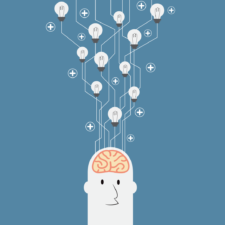 Researchers found that half of participants had experienced minor depression defined as feeling sad, hopeless, and not finding joy in daily life. Demographic findings included that younger people are more likely to be depressed, and that women more than men experience major depression post-injury.
Cognitive functioning was examined with the Cognitive and Motor FIM at 1-year post-injury. Findings from the FIM found that depression greatly affected cognitive function to a higher extent than it did physical disability. Researchers need to do more studies in larger samples to be able to make definite conclusions, but there is a relationship between cognitive functioning and mood.
Clinical practice needs to assess, treat, and prevent depression in patients with traumatic brain injury as depression hinders progress in rehabilitation. Patients experiencing depression may not engage fully with their treatment plan and may develop anti-social habits on return home if they are experiencing depression on discharge.
Cited literature from the study mentions that treatments such as antidepressant medication may assist brain injury patients with depression symptom management, even when major depression has not been diagnosed. Another method the authors suggest is using behavioral activation therapy methods, which include scheduling pleasurable activities throughout the day to manage depression symptoms. Another suggestion is using telephone-based interventions such as using calls or text messages, which can reinforce participation in therapy and life.