[Video] TEDTalk – How to live passionately – no matter your age
Posted on
26 Oct, 2020
in Healthy Aging,Ted Talk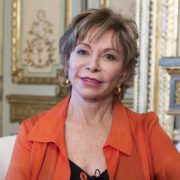 Have you wondered the secret to aging gracefully? Learn how Isabel Allende ages and lives life with passion, no matter her age. In this TEDTalk, Isabel shares with the audience a balance of humor and wisdom that can help anyone live passionately at any age. 
all rights of this video belong to www.ted.com  and are shared under the creative commons license. Watch more at www.ted.com.
Isabel Allende is a Chilean writer who was awarded the Presidential Medal of Freedom in 2014. Some of her famous works include The House of the Spirits and the City of the Beasts. She has published 42 books that have been translated into 42 different languages. Isabel Allende created the Isabel Allende Foundation which supports the empowerment of women and girls worldwide. She is an avid activist who has lectured about the empowerment of women, Latin American politics, and the creative process of writing.
Many people and western society have a negative view of aging. Isabel Allende shatters the negativity of aging and conquers the aging process with her passion for life. In her 70's, she has accepted the obstacles of aging while embracing the joys of life. Isabel Allende shares that life goes on with aging, and getting older is something to be embraced.